Horehronská kúria ***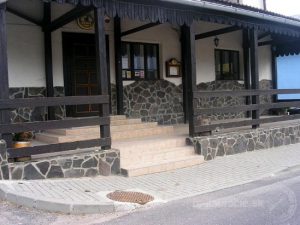 The family mansion with a restaurant is located in the stunning mountain village Telgrát. There are 4 standard rooms, a two-room suite, and spacious living room with a fireplace. The fully-equipped kitchen is available for all the guests as well. There is a terrace on the first floor, where you get a beautiful view over the surrounding mountains. The restaurant offers delicious traditional Slovak dishes and regional specialties, but even a tasty Italian pizza. The coffee place, for up to 24 people, right next to the restaurant is your spot to enjoy a cup of coffee. If you want to enjoy your coffee or tea like people used to do in the past, visit the "Slovak room" with wooden kitchen-ware and fireplace with the capacity of up to 16 people. You can rent the area for private social events such as celebrations or various parties. Guests can enjoy infra sauna, outdoor wooden tub or chill outside at a wooden sheltered terrace with seating. Would you like to try BBQ of your own specialties? No problem with our outdoor fireplace. For the more demanding customers, a wooden tub is available outdoors as well. A free parking lot is right next to the pension. The sports enthusiasts will appreciate the storage room for the bicycles, ski and other sports equipment.
More information about the pension and a price list can be found at www.horehronskakuria.sk.