Rope Park Tarzania Ostrá skala (Sharp Rock)
Sharp Rock is one of 10 rope parks Tarzania in Slovakia. It's only one and a half km away from Dobšisnká Ice Cave, near Ranča below the Sharp Rock. There are 23 obstacles, 5-7 meters above the ground. You will enjoy the rope park thank to some amazing crossings and very high obstacles. The park has been designed for old and young climbers too, so it's perfect for families with kids.
Kids' route: 4€/30 mins
Adults' route: 9€
Operating hours: July – August every day from 10am – 6pm, September Saturday-Sunday: 10am – 4pm
Contact:
Phone number: +421 902 900 263
Email: tarzania@m-fly.sk
Web page: www.tarzania.sk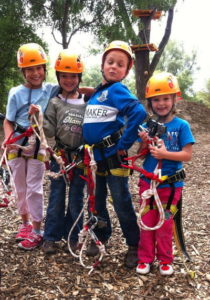 Rope Park Monkeyland – Spišská Nová Ves
You can find Slovak the safest rope park Monkeyland in Spišská Nová Ves, right next to the ZOO. The safety system is so safe, that it's impossible to fall off and get injured. You can choose from 4 different routes with different levels of difficulty.  One of them is the kids' one and it is 500 metres long with 37 obstacles attached to trees, 3-4 meters above the ground.
Address:
Spišská Nová Vec, Sadová ulica, Tepličská cesta
Kids' route: 3,50€/30  min
Adults' route: 7€/60 min
Operating hours:  June- September: 9:00 am – 7:00 pm daily
April/May/October: 9:00 am – 7:00 pm Saturday/Sunday
Book your time online directly on www.monkeyland.sk