Slovak Paradise & Spiš tourist card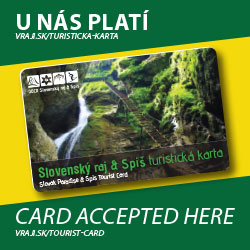 Visit the region of Slovak Paradise & Spiš and get a special tourist card full of prerfect discounts!
Dear visitors, let us introduce you a brand new attractive offer in the Slovak Paradise and Spiš region.  If you stay in some of our partner´s accomodation facilities for at least two nights, you will get a FREE "Slovenský raj & Spiš Tourist Card", which allows you to enjoy many great discounts for tourist services in our region!
 The project of the tourist card is implemented by the Destination management organization Slovak Paradise & Spiš, with financial support of the Ministry of Transport and Construction of the Slovak Republic and the Košice Region Turizmus organization.
The Slovak Paradise & Spiš tourist card is distributed right at the receptions of our partner´s accomodation facilities for all their guests staying for at least two overnights. The benefits of the card you can then use during your whole stay.
 The card is non-transferrable, each visitor gets own card, except of the children under the age of six, which are antitled to discounts on the card of the responsible adult person. The card is valid all-year round.
The list of all the accomodation facilities offering the card as well as the list of the discounted services (skipasses, enters to museums and historical sights, wellness facilities, meals in restaurants, public transportation services, etc.) you can find below.
We are looking forward to your visit!
The list of the accomodation facilities offering the  Slovenský raj & Spiš tourist card
Chata Horáreň cottage, Smižany village, part Košiarny briežok

Penzion Resa**, Spišská Nová Ves town

Poráč Park relax & sport centrum, Poráč village, part Poráčska dolina valley

Apartments Club Telgárt ***, Telgárt village

Hotel Metropol ****, Spišská Nová Ves town

Penzion u Hanky, Telgárt village

Horská chata Stará Horáreň chalet, Dobšiná town, part Lányiho huta

Penzion Stefani, Smižany village

Penzion Lesnica, tourist centre Čingov

Chata Štefana chalet, Mlynky village, part Havrania dolina

Penzion pod Guglom  Mlynky village

Penzion Ľadová, Stratená village, part Dobšinská Ľadová Jaskyňa

Horehronská kúria guesthouse, Telgárt village

Penzión Salamander ***, Mlynky village, part Palcmanská Maša

Private Spiš, Spišská Nová Ves town, part Ferčekovce
Product
Discount specification
Period of validity
SPECIAL DISCOUNTS FOR THE SUMMER 2018
Ferrata Kyseľ, Slovak Paradise National park

50% discount for the entry to the Ferrata

 July – October 2018

Summer minibus to the Slovak Paradise

FREE transportation by the Summer minibus

July – August 2018

CULTURAL-HISTORICAL SIGHTS AND ATTRACTIONS

Ascent to the highest church tower in Slovakia – Tourist information centre Spišská Nová Ves

www.spisskanovaves.eu/tic

FREE
All-year round (every day, weekends only for groups and to order)
Monkeyland – rope park, Spišská Nová Ves

www.monkeyland.sk

FREE
Summer 2018
Slovak National Museum – SPIŠ CASTLE
www.spisskyhrad.com
13% discount for the standard entry fee for the adults

April – October 2018
Spiš Museum, branches Spišská Nová Ves, manor-house and summerhouse Dardanely Markušovce and Ethnographic Museum Smižany

www.muzeumspisa.com

50% discount from the standard entry fee (according to the current exhibitions)
All-year round
Farm on Samelova meadow, Stratená, part Dobšinská Ľadová Jaskyňa

www.farmaladova.sk

33,33% discount from the pridce of horse ride for 1 person from a group of at lesat 3 people / 1 hour

---

50% discount from the price of horse ride for a child up to 14 years with two paying adult persons

Summer 2018
ZOO Spišská Nová Ves

www.zoosnv.sk

20% discount from the standard entry fee
Summer 2018 from 20th april to 20th october
Alex Park – indoor children´s entertainment park, Spišská Nová Ves

www.alexpark.sk

15% discount from the entry for 1 person / 1 hour
All-year round
Sky Rent – COMPACT Skydyve, Spišská Nová Ves

www.compact.sk

20% discount from the price of a video record of the tandem parachute jump
Seasom 2018 (may – october)
SPORT, WELLNESS & RELAX
Wellness centre – Hotel Metropol****, Spišská Nová Ves, www.hotel-metropol.sk
1 + 1 person FREE entry
All-year round
Outdoor garden wellness – Penzion pod Guglom, Mlynky

www.mlynky.net

20% discount from the standard entry fee
All-year round
Indoor swimming pool, Spišská Nová Ves

www.stez.sk

10% discount from the standard entry fee
All-year round
Sauna, Spišská Nová Ves

www.stez.sk

10% discount from the standard entry fee
All-year round except july and august
Tennis hall – STEZ Spišská Nová Ves

www.stez.sk

10% discount from the standard entry fee
All-year round
Tennis courts – STEZ Spišská Nová Ves

www.stez.sk

10% discount from the standard entry fee
All-year round
Sauna – Penzion Salamander, Mlynky
www.penzion-salamander.sk
10% discount from the standard entry fee
All-year round
Wellness relax spa – Apartments Club Telgárt ***

www.apartmentstelgart.sk

The same prica sa within the special Premium packages for guests accomodated in the Apartments Club Telgart (according to the current price list)
All-year round except the term from 24th december to 12th january
Thermal park Vrbov

www.termalnekupalisko.com

10% discount form the standard entry fee (discounts do not cumulate)
Winter season from 20th september to 10th june
GASTRONOMIC DELICACIES
Penzion pod Guglom – PUB, Mlynky

www.mlynky.net

10% discount from the entire bill in the pub
All-year round
Hotel Metropol****, Spišská Nová Ves

www.hotel-mteropol.sk

5% discount from the entire bill of consumption (meals and drinks)
All-year round
Penzion Stefani, Smižany

cingov.com/penzion-stefani/

5% discount for the selected meals from the menu
All-year round
Penzion Lesnica, Čingov

cingov.com/penzion-lesnica/

5% discount for the selected meals from the menu
All-year round