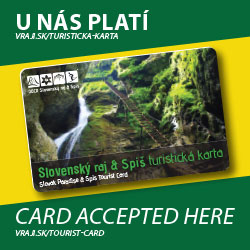 Dear friends, we bring you another attractive attraction that, we believe, will convince you to visit Slovak Paradise and Spiš again this year: The Slovak Paradise & Spiš tourist card full of great discounts! Everyone who stays in one of the partner accommodation facilities in our region receives a FREE regional tourist card Slovenský raj & Spiš, thanks to which they can draw numerous attractive discounts on popular tourist services. The regional tourism card project is being implemented by the regional tourism organization Slovenský raj & Spiš.
The regional card and the system of its use is based on a philosophy that works successfully in leading domestic and foreign destinations.You can get the Slovenský raj & Spiš regional tourist card directly at the reception of the partner accommodation facility when registering for accommodation. You can then use its benefits throughout your stay in this facility. The card is issued in the name and is non-transferable. The list of all partner accommodation facilities issuing a tourist card, as well as the list of discounted services that the card holder can use, can be found in the tables below.
Looking forward to your visit!
| | |
| --- | --- |
| Offer/product/service | Discount |
VISIT ON CULTURAL INTERESTS AND ATTRACTIONS IN THE REGION

Ascent to the highest church tower in Slovakia – Tourist Information Center in Spišská Nová Ves
FREE

Slovak National Museum, Spiš Museum in Levoča – SPIŠ CASTLE
Discounted entrance fee for an adult: 7€
(*discount applies only to daytime admission, not to night tours and commercial events)

SUMMER

Summer Tourist Bus to Slovak Paradise
50% discount on the standard Tourist Bus fare
(bus connection num. 810436 Sp. Nová Ves – Sp. Tomášovce – Sp. Štvrtok – Hrabušice / Vydrník-Stratená, Dobš. Ľad. Jaskyňa – Dedinky / Telgárt)

Outdoor swimming pool, Spišská Nová Ves
15% discount on the regular entrance fee to the outdoor swimming pool

Spišská Nová Ves Zoo
20% off the regular entrance fee

ŠPORT, WELLNESS A RELAX

Wellness center, Hotel Metropol****, Spišská Nová Ves
1 + 1 PERSON FREE

Indoor swimming pool, Spišská Nová Ves
10% of the regular entrance fee

Sauna – STEZ, Spišská Nová Ves
(part of indoor swimming pool)
10% discount on the regular entrance fee

Tennis hall – STEZ, Spišská Nová Ves
10% discount on the regular entrance fee

Tennis courts – STEZ, Spišská Nová Ves
10% discount on the regular entrance fee

ADRENALINE

Ferrata HZS Kyseľ, Slovak Paradise j
Ticket price as for regional discount (50% discount)

Compact Skydive & flying
10 € discount on a flight by plane
20% discount on the price of a tandem jump video recording

GASTRO TASTE

Eating at Hotel Metropol****, Spišská Nová Ves
5% discount on the total consumption bill

Pension Stefani, Smižany
5% discount on selected dishes from the permanent menu

Pension Lesnica, Čingov
5% discount on selected dishes from the permanent menu


List of partner accommodation facilities issuing tourist card Slovenský raj & Spiš

Hotel Metropol ****, Spišská Nová Ves
Hotel Preveza**, Spišská Nová Ves
Pension Resa**, Spišská Nová Ves
PB Apartments, Spišská Nová Ves
Privát Spiš, Spišská Nová Ves, in Ferčekovce
Chata Horáreň, Smižany, in Košiarny briežok
Pension Stefani, Smižany
Pension Lesnica, Čingov
Poráč Park relax & sport centrum, Poráč – Poráčska dolina
Chata Štefana, Mlynky, in Havrania dolina
Horská chata Stará Horáreň I. a II., Dobšiná, in Lányiho huta